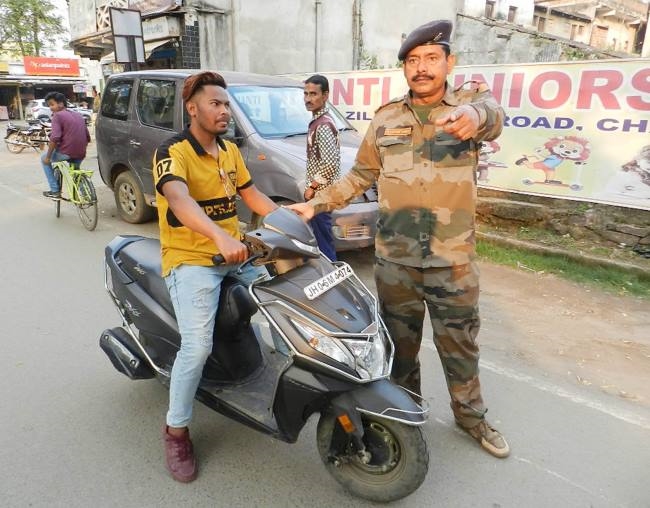 The District Transport Department has imposed a total fine of 60 thousand rupees on 33 motorcycles and 2 Tata Magic drivers for violating traffic rules within two days. In Chaibasa, a motorcycle driver incurred a total loss of six thousand rupees due to lack of license and helmet.
On behalf of the District Transport Department, it was told that on Wednesday, by running a motorcycle investigation campaign in front of the Sadar police station, 11 motorcyclists without helmets were charged a total penalty of Rs 11 thousand.
Similarly, motorists were checked without a helmet in front of Mufassil police station on Tuesday. During this period, a fine of Rs 49 thousand was recovered from 22 motorcycle drivers and two Tata Magic drivers. Tata Magic was from Odisha and did not have permits here. 10–10 thousand rupees were recovered from both.
Here, Inspector cum Sadar police station in-charge Niranjan Tiwari said that the motorists would be constantly monitored. Most people ride their bikes without helmets. The police will keep a special watch on these. Also, youth and women below the age of 18 years will also be monitored.
Younger young men and women will be stopped first, after which their family members will be called and fined. Special attention will be paid to this. In most of the road accidents that are happening right now, girls learning scooty are involved, three people sit and ride while learning.
Police do not mean to harass anyone. Police ask people to wear helmets continuously for the safety of the motorcycle and scooty drivers. If you are wearing a helmet, then the police have no problem. Niranjan Tiwari called upon the motorcycle driver not to drive without a helmet and go safely to his home.
Also see: – Medical School in Chaibasa
Follow us on Facebook and Instagram
Source :- Jagran