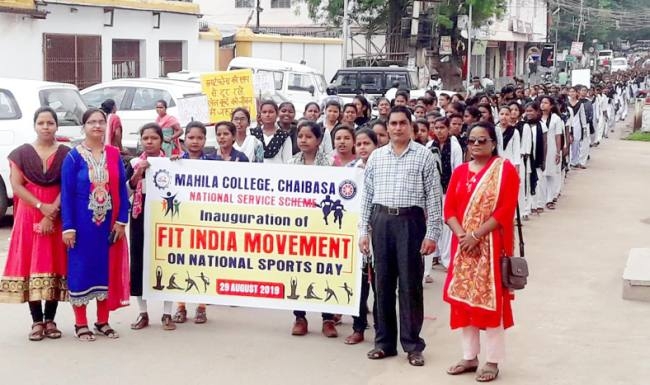 Students of Women's' College and Tata College organized Prabhat Pheri in Chaibasa on the occasion of National Sports Day. Prabhat Pheri of Women's College was headed by Dr. Nivaran Mahatha, Head of the Department of Sanskrit.
Students of Women's College shouted various slogans from Women's college to Kachhri Chowk in a long queue regarding Khelo India, Healthy Stay India, Fit India, will not keep Android phones and will pay attention in studies .. etc.
Later, under the inspiration of Dr. Asha Mishra, the principal of the college, all the students of the college took an oath to stay healthy and be fit by participating in the Prime Minister's Fit India program at 10 am. The program was mainly attended by Arpit Suman Toppo, Suman Kumari, Smita Thakur, Alka Pradhan, Shatabdi Dutta, Priyanka Mitra, Divya Sharma, etc. and other teachers and students.
On the other hand, Prabhat Pheri and the oath ceremony at Tata College was led by Principal Prof. Kasturi Boyapai. While addressing the students at Tata College, the principal said that we will not be healthy until we are fit. Therefore, if you are fit first then you will be healthy yourself. On the occasion, children took a pledge to remain healthy.
Follow us on Facebook and Instagram
Also see:- Jal Shakti Abhiyan and Plantation
Source:- Jagran