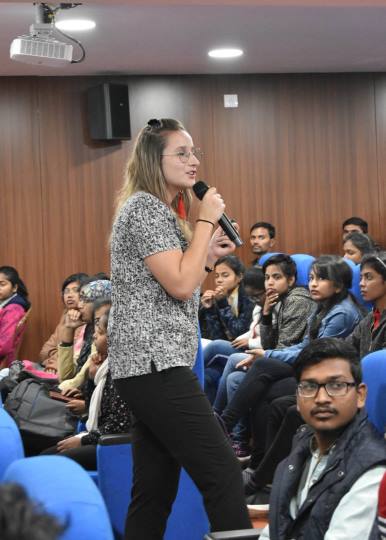 Pauline Laravoire, Sustainability Director of the Techno India Group from Paris origin have advised the students not to accept all the events around them in the same way but to find out the reason for that. If we start doing that, then in a few days more than half of the social problems will end. She was addressing the students as a keynote speaker at a workshop organized by The Root, Entrepreneurship Department of Chaibasa Engineering College.
In this workshop, Pauline told the students about its impact on sustainable development and social entrepreneurship. Encouraged students with social start-ups. Many technical and psychology-related aspects related to this were also discussed. She also answered the students' questions. The workshop was based on the career and its impact.
Deputy Principal of the college Prof. De Raha reported that Laravoire spent 25 years of her life in Paris and completed her graduation from HEC Paris. She started an organization called Y-East, which is under the banner of the Techno India Group. She is also the co-founder of the Aqua Association, which works on quality water access and is a non-profit organization in Paris.
He informed that in the future with the help of Laravoire and her team, the students of this college will also be provided with professional training on entrepreneurship and social startup. Deputy Director Prof. (Dr.) Sudipta Chakraborty was also present in this workshop. About 120 students participated in this workshop.
Also see:- 35 people fined in 2 days
Follow us on Facebook and Instagram
Source:- Jagran