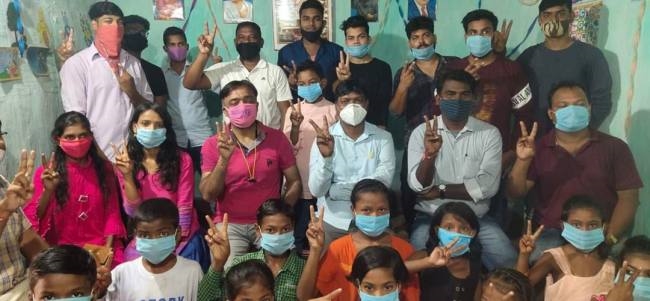 Free coaching center was inaugurated on Sunday for the preparation of Navodaya and Netarhat in Gutusai with the untiring efforts of Helping Hand Chaibasa.
Neha Nishad, founder of Helping Hand Chaibasa, said that during the early times of lockdown when she was distributing rice and food to the poor and needy people in the street, she got many children who have left their schooling completely. After leaving studies, children were wandering here and there and adopting wrong habits.
Neha along with her group searched for such children who needed education enrolled them in school. She and her group are teaching these children. Thinking that the future of these children should be bright, Neha thought of running a free coaching institute for the preparation of Navodaya and Netarhat, and did that work today.
Vikas Dodrajka, Sanjay Kachhap, Prakash Laguri, Arvid Laguri and Engineer Amrit etc. were present at the inauguration ceremony of the institute. The Helping Hand team guided the children about their future and said that they will always be ready to serve and help them.
Meanwhile, the children present here also presented a sample of their talent. Here, a nine year old child, Lakshya Laguri, was the center of attention, having won the gold by defeating the Australian player in Taekkond a year earlier. He also talked about coming to coaching institute to study for the preparation of Netarhat. Other members of Helping Hands Chaibasa were Poonam Jha, Gudiya Rajak, Sudhanshu Shekhar, Kapil Chirania, Sonu Kumar, Manish Nishad, Adil and Amit etc. on the occasion. As well as a group of 35 children were also present there.
Follow us on Facebook and Instagram
Source – Jagran
Also Read – Fight Against Coronavirus in West Singhbhum